Crossbow Suppressor™ Ballistic Glasses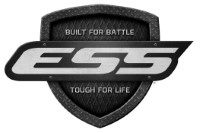 100% UVA/UVB protection
Black Crossbow Suppressor frame with Lens
Compliant with U.S. Federal OSHA, ANSI Z87.1+, CE EN 166 and U.S. MIL-PRF-31013
Universal Fit
ESS is a subsidiary of Oakley™ Inc.
These Glasses are designed to be worn with communications and/or Hearing Protective Equipment. There is an included strap to secure the glasses when such equipment is not worn.  ​
Receive unparalleled eye protection and superior comfort with the ESS Crossbow Suppressor. Meeting U.S. military specification MIL-PRF-32432 and U.S. Federal OSHA requirements, these sunglasses ensure you'll be equipped for any operation or task with proper protection on your side. Using DedBolt Lens Lock to keep the lenses in place, these glasses resist impact and use ClearCoat FlowCoat lens treatments to prevent unsightly fog or scratching. For peak optical precision, ESS OPTICS completely eliminates distortion to produce a clear line of sight at any angle and the lenses provide 100% UVA/UVB protection. The sunglasses won't slide around, even when they're wet, thanks to the No-Slip rubber nose bridge and back strap.
---
We Also Recommend
---
Great Product, at a Great Price!
Really super company to deal with. Just like issued ESS eye ware, at a cost that represents value. All around nice experience shopping at McGuire Army Navy. Will shop there again.
Good glasses during sunny day
These are good quality, however would be best to wear during light and sun. Otherwise would be too dim
Great ballistic glasses
I bought these glasses on a whim and was really surprised by the fit and the overall shape. Really glad I purchased them.
Sunglasses
Happy with the make and quality , ty for being prompt with the order .
ESS EYESHIELDS
These shields are great. They fit properly when wearing a cap and they do not fog up when wearing a facemask.