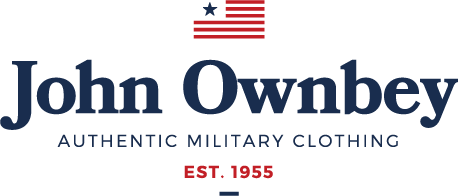 The Woobie jacket is both a military fashion item as well as a functional piece of outdoor apparel. The quilted jacket is made of a nylon outer and a polyester filling to keep your core snug and warm and the interior cell phone and pen pocket are perfect for keeping your items organized and ready.
These run slightly tight - if unsure of your size we suggest sizing up.
Nylon outer/polyester batting
Button-front closure
Interior phone/pen pocket
2 Front pockets
Made in USA
The jacket is made with pride in the USA by the famed government contractor John Ownbey Co.
The Woodland Camo variant has an olive drab interior lining and the black jacket has a black interior lining. Both the Woodland Camo and Black jackets feature a M81 woodland camo pocket.The OCP variant has an OCP pocket.
The John Ownbey Company was founded in 1955 to supply the American Government with jackets and bombers for the increasing number of pilots. After the great air battle successes in World War II the US Air Force put more pilots in the sky than ever before. During the Korean and Vietnam War, the John Ownbey Jackets would see action in some of the most decisive air battles in history. The John Ownbey company continues its legacy and still creates iconic and quality apparel for everyday wear. Because Legends are Timeless.
---
We Also Recommend
---
It's a woobie jacket! Fits fine and is warm
It's a jacket made from a pancho liner aka woobie. But you should know a couple things.
1. This is not the standard field jacket liner. It does not fit like a field jacket liner and is true to size. I wear a medium t shirt and the medium jacket fit. I wear it mainly an extra layer or when I'm casual. Cozy though
Love It—5 Stars With The Right Sizing
I bought both the John Ownbey woodland woobie vest and a woodland woobie jacket. After a snafu with my initial order, McGuire Army/Navy sent me corrected order which arrived pretty fast. I have to say that I absolutely love both the vest and the jacket. Neither are lined. I also never thought camo could present a sharp looking appearance but these items seem to be the exception. I own the Rothco versions of these garments. I can honestly say that the JO ones are much better unless you have a gut. The XL JO vest and jacket would be the equivalent of medium sized Rothcos. These are not heavy weight so they probably wouldn't work as stand alone outerwear in temps below 50 degrees.
Both JO garments seem to be slim fit so thankfully I took the advice of other reviewers and sized up. For reference, I'm 5'10" and weigh about 200lbs. I normally wear a 44R sport coat and float between a L and XL depending on the manufacturer. The XL fit in both of these items fit perfectly when worn over a long sleeve henley. I'm planning to pick up more of each in other colors.
big red
jacket is way to small ordered 2xl not close to this real size.very disapponted
Awesome!
Will NOT be disappointed, great jacket!
Great purchase
The woobie jacket i purchased is both stylish and fully functional i love and so will you.