Defender™ Gamma Long Rain Duty Jacket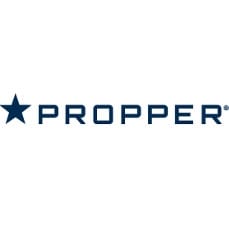 Battle the elements like tactical, enforcement, and tactical teams do!
100% Nylon fabric
HALT barrier provides superior windproofing
Propper Defender Echo liner compatible
DWR (durable water repellent) for advanced weather protection
Factory seam sealed for superior waterproof protection and insulation
Military-inspired, three-slot epaulets,
Propper exclusive Peripheral Vision Hood System (PVHS)
The Propper Defender Gamma Long Rain Duty Jacket with Drop Tail is a nylon shell with a warm lining that won't let foul weather get in the way when you've got to be outdoors. The drop tail provides extra protection from the elements while the lightweight HALT barrier provides breathable wind and water protection.
This versatile jacket features Propper's exclusive Peripheral Vision Hood System, a Special-Forces-inspired stow-away hood contoured to the face and head for maximum visibility. Action-fit design with articulated three-piece sleeve construction provides a superior range of motion.
Coveted additional features include: three-slot epaulets, two hand-warmer pockets, two chest-high microphone tabs, side access zippers and a custom-molded badge tab. When temperature drop, to warm up without losing mobility, simply zip in the Propper Defender Echo Softshell Jacket liner. Please be aware that the liner is not included and would need to be purchased separately. Available in extra-large sizes, from Small through XL.
About Propper
Propper has been one of the main uniform suppliers to the United States military since 1967. Propper International was founded in 1967 by William S. Propper, and was awarded its first government contract with the U.S. Navy, manufacturing Dixie cups (the white sailor caps). Propper International has manufactured over 60 million garments for the U.S. Department of Defense – Army, Air Force, Navy, Marines, Coast Guard and Special Forces. Propper also manufactures apparel for the commercial military, tactical, law enforcement, and public safety markets.
---
We Also Recommend
---
Love This Jacket...
Bought this jacket over a month ago and absolutely love it. Fits great...it is large enough to layer underneath for colder weather. Have been wearing with temps in the 20 to 40F degree range during light snow, rain and some pretty strong winds. The jacket works great. I like the length (covers my butt) and it covers my neck well. Highly recommend.
Great value
Looks good, fits good, I am 6-3 and 280 and 3XL fits with plenty of room for winter clothes underneath. I don't know how you can go wrong for the price. Thanks for the invite.
Defender from rain
This is a great jacket. I wore it out in a heavy rain and I stayed completely dry. It is long enough to keep my backside form getting wet from the water run off the back. It kept me warm without over heating. It is a very comfortable jacket.
Best coat I've ever had!
Propper Rain coat at an awesome price and even better fit! Good service and delivery. Zero complaints and all praises.