Defender™ Gamma Long Rain Duty Jacket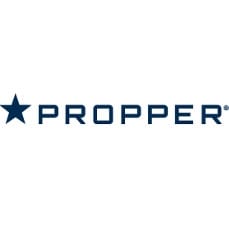 Battle the elements like tactical, enforcement, and tactical teams do!
100% Nylon fabric
HALT barrier provides superior windproofing
Propper Defender Echo liner compatible
DWR (durable water repellent) for advanced weather protection
Factory seam sealed for superior waterproof protection and insulation
Military-inspired, three-slot epaulets,
Propper exclusive Peripheral Vision Hood System (PVHS)
The Propper Defender Gamma Long Rain Duty Jacket with Drop Tail is a nylon shell with a warm lining that won't let foul weather get in the way when you've got to be outdoors. The drop tail provides extra protection from the elements while the lightweight HALT barrier provides breathable wind and water protection.
This versatile jacket features Propper's exclusive Peripheral Vision Hood System, a Special-Forces-inspired stow-away hood contoured to the face and head for maximum visibility. Action-fit design with articulated three-piece sleeve construction provides a superior range of motion.
Coveted additional features include: three-slot epaulets, two hand-warmer pockets, two chest-high microphone tabs, side access zippers and a custom-molded badge tab. When temperature drop, to warm up without losing mobility, simply zip in the Propper Defender Echo Softshell Jacket liner. Please be aware that the liner is not included and would need to be purchased separately. Available in extra-large sizes, from Small through XL.
About Propper
Propper has been one of the main uniform suppliers to the United States military since 1967. Propper International was founded in 1967 by William S. Propper, and was awarded its first government contract with the U.S. Navy, manufacturing Dixie cups (the white sailor caps). Propper International has manufactured over 60 million garments for the U.S. Department of Defense – Army, Air Force, Navy, Marines, Coast Guard and Special Forces. Propper also manufactures apparel for the commercial military, tactical, law enforcement, and public safety markets.
---
We Also Recommend
---
Great Jacket
Great jacket ,kept me dry from the rain, will recommend this jacket to my friends!
Well made rain jacket
This rain jacket is made to last. It's durable and has nice features. I would definitely recommend this if your in the market for a rain jacket
Gamma defender jacket
1st time customer. McGuire had the lowest price and shipped it out extremely fast. Will encourage anyone to choose them to do business with. Item arrived quickly and was exactly as described
I'm dry!!!
I purchased this rain jacket because I'm a mail carrier on the Oregon Coast and I work outside a lot doing maintenance as well. This jacket exceeded my expectations. I stay completely dry and the quality of the jacket is extremely high. There is an inside liner you can purchase if you live in a very cold climate, however I don't need it and stay very warm in 40 degree weather. I like how thick the jacket is and how long it is to keep my legs dry as well. The hood works fantastic and is a great design. I don't see an inside pocket which would be nice but not terribly important, as the outside pockets are large and hold all my items. I highly recommend this jacket and am VERY pleased with this purchase.